Pair of George II Grey Painted Tablet Mirrors in the Manner of Kent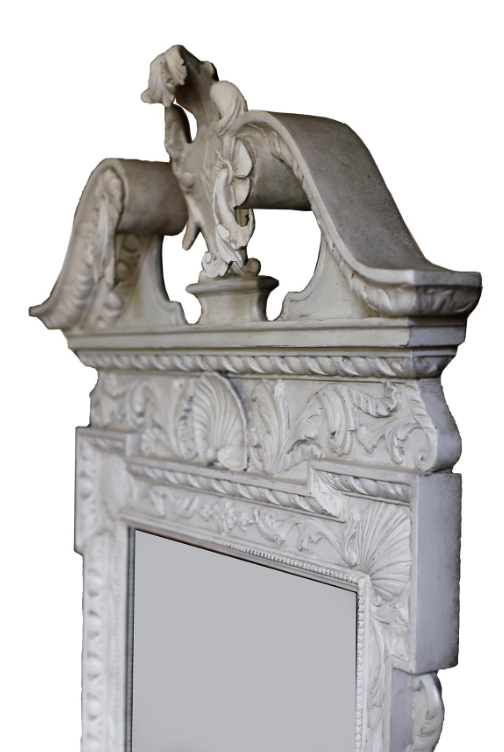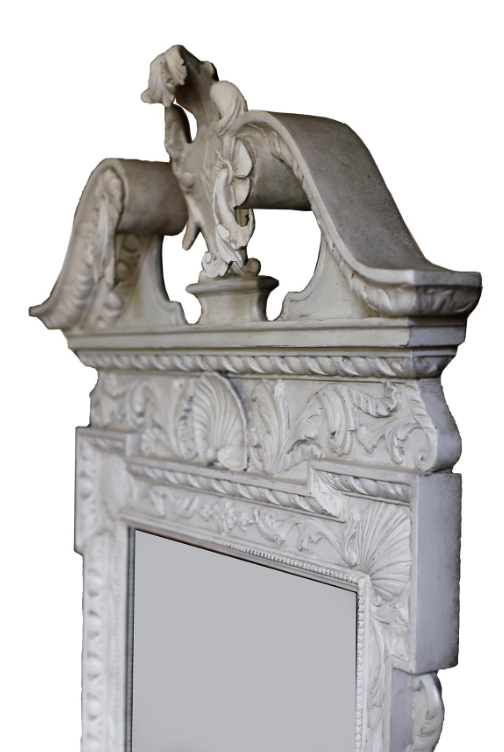 Pair of George II Grey Painted Tablet Mirrors in the Manner of Kent
An extraordinary pair of Georgian looking glasses, these mirrors exemplify the height of the creative powers of William Kent (1685-1748), one of the preeminent British designers and architects of the early 18th Century. Kent introduced a particular strain of classicism to England based on the works of Italian Renaissance architect Andrea Palladio. Responsible for some of the great architectural designs of the Georgian period, Kent counts Hampton Court Palace, Chiswick House, Devonshire House, and Rousham among his contributions. For these and many other projects, Kent supplied furniture designs that were marked by a crisp and inventive classical understanding. These two mirrors are some of the exceptional pieces to have been designed in this Kentian manner. The identical mirrors exhibit a rectangular tablet glass surrounded by acanthus scrolling, beaded edge, egg and dart moulding, and eared architraves. The two upper ears are filled with scallop shells as are the frieze and apron surrounding the glass. Thin, rippling draperies flank the underside of the ears. The top is surmounted by a swan-necked broken pediment whose volutes are each decorated with an acanthus flourish. The low central pedestal displays an exuberant cartouche that unfurls top an sides with foliage and low relief. On the apron below, two flattened areas mark where two sconce arms may have been attached to reflect light. Masterpieces of decorative design from one of the most iconic designers of Georgian England.
H 52 in. x W 27 in. x D 4 in.
H 132.08 cm x W 68.58 cm x D 10.16 cm
The overall condition of the pieces is extraordinary. Lovely patination and rubbing to painted surfaces. The sconce arms are not included. 19th c, England.