19th Century Bronze Bust of a Child Signed by Nicolas-Victor Vilain, 1842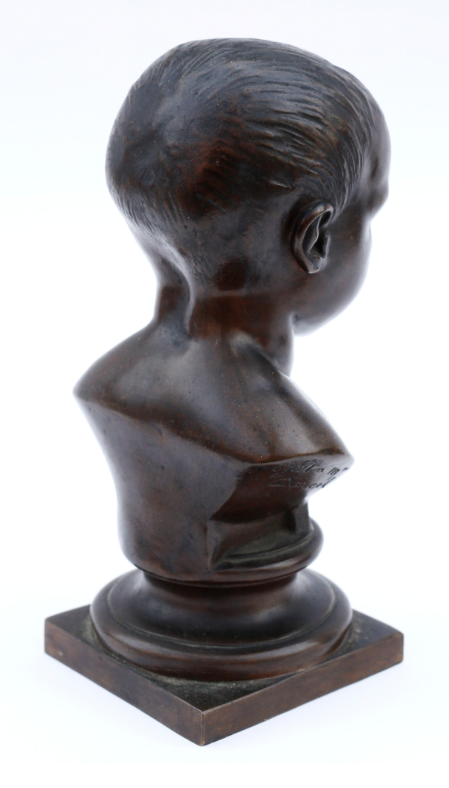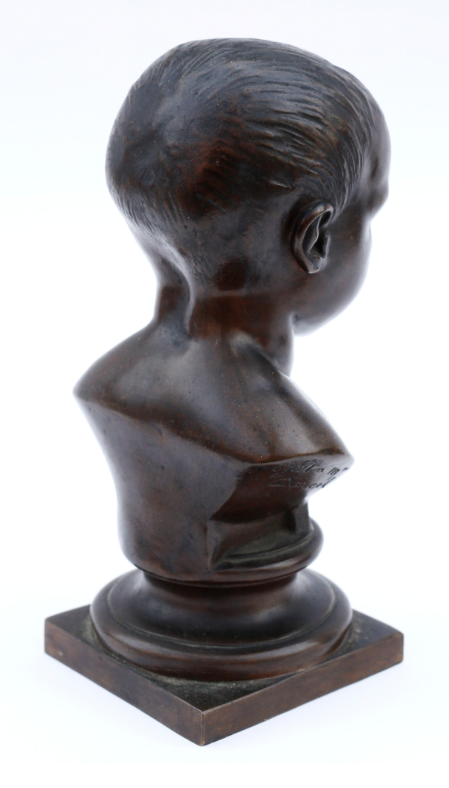 19th Century Bronze Bust of a Child Signed by Nicolas-Victor Vilain, 1842
A lovely lost-wax sculpture by the acclaimed 19th century French sculptor Nicolas-Victor Vilain (1818-1899) with a dedication to his patron. This charming sculpture is inscribed by the artist "Offert a Mme Darcel par son devoue serviteur V. Vilain Rouen, 1844." Presumed to be a portrait of baby George Darcel, his parents were Louise-Télésie Barbet and Charles Darcel. The child's maternal grandfather, Henri Barbet, was a powerful industrialist and politician - Mayor of the city of Rouen for many years and prominent figure in the July Monarchy and in the Second Empire.
The artist Nicolas-Victor Vilain won the Prix de Rome in 1837 and was a pupil under Paul Delaroche and James Pradier, considered one of the premier sculptors of his time. The precocious classical artist exhibited regularly at the Salon des Artistes Francais which afforded him great exposure leading to many important public commissions including especially several renovations of the Louvre. In 1849 Vilain was knighted as a member of the Legion d'Honeur. Many notable personalities of 19th century France sat for Vilain to sculpt, including writer Victor Hugo and his wife, Adéle Floucher. The bust of Hugo's wife by Vilain is preserved in Hautville House, where Victor Hugo was exiled in the last 15 years of his life. A rare intimate sculpture by one of the great talents of Romanticist France.
H 8.5 in. x W 3.5 in. x D 3.5 in.
H 21.59 cm x W 8.89 cm x D 8.89 cm
Wear consistent with age and use.